Mixing Memories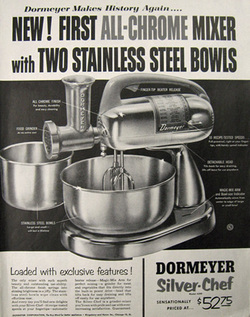 Recently, in a fit of pre-holiday cleaning, I discovered my mother's old mixer in the back of a shelf in the basement. I remember when she gave it to me, twenty years ago, declaring, "My baking days are done. Too much mess, too much bother." The Dormeyer mixer must have moved with me to each of our homes since then but I had never used it. Like many things about my mother, it stirred up lots of memories, not all of them good.

I brought it up to the kitchen, cleaned off the dust and the yellowed grime, washed the beaters and the stainless steel bowls. I looked at it for a while, even took a picture then used it to make a cake. Its motor groaned a bit but the whirling bowl and the beaters making their path of ripples through the batter made the memories flood back.

In my family, the past was shrouded in darkness. My mother was a Survivor, one of those few who lived through the horrors of the Holocaust. She never spoke of her experiences, responding to my questions with a brusque "Why go over those horrible days? I want to forget them and get on with my life."

But those days were not forgotten. They hovered over my life in my mother's harsh view of the world. "You cannot trust anyone," she warned me when I announced I had a new friend. "I told you," she said when the same new friend did not invite me to her birthday party.

She was quick with a barbed comment. When I tried on a magenta mohair sweater, the rage of my teenage years, she remarked, "You look jaundiced—like you are dying from liver disease." And when I sported a lipstick of a then-fashionable pale shade, she announced "You look dead—in the coffin, ready to be buried, dead."

She was known for her uber-cleanliness. A friend's mother thought it was a compliment when she said, "I never saw floors glow like the floors in your home." I knew the cost of those shiny floors: my mother scrubbed them on her hands and knees several times a week, waxed and buffed them to a mirror shine.

I did not like spending time with my mother, never knowing when I might feel wounded by a comment or when I might upset her by being too messy or too careless. I silently cheered when she went back to work as a bookkeeper. She was a meticulous bookkeeper--she could keep numbers in their places, all lined up and added up. And because she was at work, all that greeted me when I got home from school was a list of chores written in her precise hand: put your laundry away, set the table, put the roast in.

But then I recalled the sponge cakes.

I would stand on a chair at the counter and help her. She taught me how to measure the flour, sift it and measure it again. I was amazed that the result was somehow more flour than the cups I had just measured. I greased and powdered the special two piece cake pan with the tube in the center and the little "legs" around the top so we could invert the cake and let it cool. I was fascinated as the mixer's bowl turned automatically from the back wash of the beaters and the batter grew more yellow as we alternated adding flour with a bright yellow egg yolk. My mother slowed the bowl periodically with one hand so she could scrape the sides with her rubber spatula and, with a sharp flick of her wrist, send the extra glob back into the bowl. I was proud the day she let me do that.

We used the second bowl to beat the egg whites to shiny soft peaks. She taught me how to delicately fold the egg whites into the batter, "Use the edge of the spatula, cut through the egg whites into the batter, up the side of the bowl, fold it over and turn the bowl to a new section."

Lemon sponge, orange sponge, vanilla-scented, some served with strawberries, some marbled with chocolate, Passover sponge cakes made with matzah meal. I am sure she made other cakes but it is the ritual of baking of the sponge cakes that I remember well. And the times, the few times, when I loved being close to my mother, when she was soft and gentle and wanted me by her side, sharing her knowledge and a little part of her past.

Later in life, my mother enjoyed "better living through chemistry." Prozac lightened her darkness, smoothed out her moods and made her world a brighter place. But I remained cautious around her...always wondering if I could trust this woman who looked like my mother but was now so different.

My children had no such fears. Their grandma was fun and funny and hugged and kissed them for no reason at all.

The mixer is no longer consigned to the basement. It is stored now in the pantry right off the kitchen. It inspires me to bake again and to remember that, even in her darkest years, my mother and I together made wonderful memories and some very good sponge cakes.

Submitted by an anonymous friend. Edited by Ezekiel Nieto Benzion.
---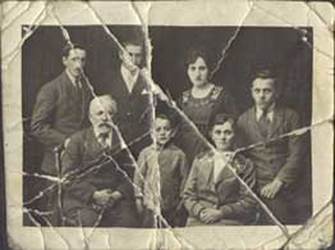 Hard Times. Hard Choices.

Imagine trying to balance hope and despair to make the best decisions within limited circumstances. Imagine choosing which of your children will go with you to a new life in a new land and which will stay behind. In my family, as in many other immigrant families, parents had to choose between having the family live a life of hardship together in the "old country" or having part of the family leave for a better life in the Goldene Medina, the Golden Land. For Jews in the early 20th century, the Golden Land was America. But those who came always hoped that the family would be reunited in the future.

My grandfather, Max Blumsack, was a poor baker in what he called Warshan, Russia. (This is now Warsaw, Poland but at the turn of the twentieth century, it was part of Russia.), Grandfather married a woman from a family with money. As my father tells the story, his mother's family was not happy with the marriage. So I imagine that my grandparents knew they would not get financial help from grandmother's family. That forced them to make difficult decisions.

They had five sons, my father among them, and, as their financial struggles continued, and with no hope of help from their rich relatives, they decided to immigrate to America. But they could only take three of their five children. Given the high cost of the permits, visas and passage on the ship, I assume it was a financial decision. Two children stayed behind with relatives: the eldest brother, perhaps because he was old enough to earn a living or to help watch his sibling and the baby, perhaps because he was not well enough to travel or not big enough yet to be a burden on the foster family. The three brothers who traveled to America were Joseph, Nathan, and Abraham (my father).

The family departed from Antwerp, Belgium on the ship called the Vaderland and arrived in New York in 1913. My grandparents soon discovered that New York streets were not paved with gold. The family lived in Hell's Kitchen, one of the toughest neighborhoods in the city. When my father left the Jewish part of the neighborhood, he often was beaten by the gangs who freely roamed the streets.

Life was hard and became harder. My grandfather died, leaving my grandmother Sarah with the three boys who had traveled with them and a fourth son born in America. To provide for her large family, my grandmother made another hard choice: she sent my father to an orphanage where he would at least be fed and clothed. He recalls wearing cast-off shoes which he believes caused his lifelong foot problems.

He had to make a hard choice too. Should he continue in school or drop out to work? Any additional income would mean so much to his family so he quit school at 12 to push heavy carts through the streets for the meager wages.

I don't really know how Grandma Sarah and my father got to Chicago. I know that Grandma was living in Chicago with her second husband, Max Litrofsky, at the beginning of WWII. Another Max! And another baker! This Max worked at Led Rubin's bakery at 1308 Kedzie Avenue. Together, Max and Sarah Litrofsky had two more children–Ida (the first girl!) and Lou, another son.

Max Litrofsky's family called Grandma Sarah a "Jezebel" for stealing their father. (I am not sure he was ever really divorced from the wife he left in Poland. All I was told was that he started a new life in America.) Grandma Sarah died soon after I was born so I remember her mostly from photos. In them, she appeared as a prim and proper bosomy woman with her hair in a bun. Not at all what I, a young girl, imagined a Jezebel would look like. Since my dad's father had died long before I was born, I have no knowledge of him either but I do remember Max Litrofsky as a very old man whom I visited with my father. He was in a wheelchair by then and I felt shy around him

All three of the oldest Blumsack boys became bakers and some went on to own bakeries. The two oldest boys stayed in New York. Joe kept the last name Blumsack but Nate listed his name as Blum, and my father (known as Al) became Bloom.

Meanwhile unrest in Europe before, during and after WWI prevented the two other children from rejoining the family as soon as everyone had hoped. Instead, the oldest brother made his way to France where he married and settled down. I once saw a postcard from his family to my dad. It started, "Cher Uncle Al." That postcard has been lost along with many old family photos. That distant uncle died in WWII, but we do not know if it was from the war or the Holocaust.

The youngest brother who had been left in Poland finally came to Chicago during the Depression. He suffered from emotional problems. The family, struggling to survive during the bleak economic times, could not provide support so he spent his life in mental facilities. When we visited him, we took him out to eat. He loved sweets and was child-like in his behavior.

My dad is the only one who spoke about the hard times in his life. But he never dwelled on them. Instead, he talked to me about music, art and literature. He gave me a lifelong love of reading and learning which led me to a career in teaching.

I look back on the decisions made in those times and wonder, would I have done anything differently? What would I do if life was so grim that I needed to leave my homeland and some of my children to guarantee the future of the others? How desperate they were; how hard their choices! And yet, I have been blessed with a life full of good choices because they made those hard ones so many years ago.

Written by Rita Bloom Kramen. Edited by Ezekiel Nieto Benzion (2015)


---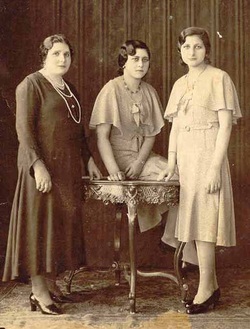 I Am a Marrano



A word about this story

I came across this article while doing research on the use of the term, "marrano." "Marrano" was used as a label for Jews who converted to Catholicism in the 16th century in Spanish-controlled regions under extreme duress but who continued to practice Judaism in secret. Since "marrano" means "pig" or "boar," it was a derogatory term. The preferred terms are now "Converso" or "Crypto-Jew." However, in this article and others like it, people declare themselves proudly to be Marrano, I use the name as they use for themselves.

I edited the article to focus on the traditions and ways this family used to preserve their identity in secret for 300 years until today, when they can openly worship once again as Jews. I hope I do justice to the spirit of Anne Cardosa, the original author.

As I sit in a synagogue service and pray, I think of what it means to be a Marrano.

My grandmother, Pauline, told me she was a Marrano. She would light votive candles on Shabbat and go to Mass but never take communion. She would touch her forehead or face or shoulders in various places so that it would look as if she was making the sign of the cross. What she really was doing was whispering Adonai (Lord) and making rapid movements that had some secret meaning. In church, she would pray in Spanish in her native accent from Gerona, Spain. She also spoke Portuguese and knew a few Hebrew words. Ironically, Grandma sold cloth to the nuns from which they made their habits.

For generations, being a Marrano meant my family absolutely forbade any member to tell an outsider that he or she was Jewish. The Inquisition was never really over in most people's minds. Under no circumstances was any Jewish practice or mannerism to be shown to strangers.

Everything Jewish was done in the home. Jewish practices had to be performed in total secrecy. The same practices had been handed down to me. On Friday night, the Sabbath candles were little Catholic votive candles, the perfumed kind which I bought in a candle shop. The candle would always be lit in the bedroom, so as not to embarrass the non-Jewish members of my family. Shabbat meals consisted of a porridge of cooked whole rye, wheat, brown rice, millet, lentils and chickpeas, with celery, carrots and parsley.

Mother would take me to Mass at the church. We would sit while the others took communion. Many times I was told to cross myself and kneel in church while saying Jewish prayers in Spanish. Occasionally, a Hebrew word or two was mixed in. The word "baruch" (blessed) and "Adonai" were the only Hebrew words I remember.

In my early teens, my mother told me I was Jewish and to keep quiet about it. Later, I began to search for my roots. Why did my mother tell me I was a Marrano, a secret Jew? I was told that ancestors centuries ago had been tried in the Spanish Inquisition and had to become Catholic or be sent to the stake. Those who watched the auto de fes chose to convert but practiced Judaism in secret.

For generations the only way they preserved their religion was by an agreed-upon family code. Never take communion. Always say "Adonai" when you cross yourself and touch your closed eyelids. Light the Sabbath lamps in a room where no one can see the light escaping. Share the family secret with children over age 13, so they could keep it a secret. Passover was celebrated with outdoor picnics. There were no indoor seders or reading Haggadahs. Eat lentils, honey cakes, and greens, no meat, sometimes fish, vegetable, and grains. On both my mother's and my father's sides, cousin marriages had taken place for generations, for another rule of the code was to stay genetically Jewish by marrying only relatives, such as cousins.

The important Marrano holidays are Passover and Quippur (Yom Kippour), also called El Gran Dia De Pardon, when all Marranos fast. Among Portuguese Marranos, Quippur is called Dia Grande or Dia Puro (pure day). The pascua, or Passover, was called the 'day of the lamb.' Marranos do not sit down to a seder. They sit down to a Haggadah (accent on the last syllable.) However, Portuguese Marranos do not have a Haggadah book. They use the Bible and read from Exodus.Holidays were always scheduled a week before or after the real dates [to avoid the celebrations being noticed by the authorities still watching out for "secret Jews.]

People who say there are not more Marranos don't know the real story. There are 500 to 600 Marrano families in Portugal and many in Spain, also. In the New World, some live in South America and some in Mexico. I'm talking about those people who remained genetically Jewish through cousin marriages for the past 300 years, who knew for sure that their families were Jews, who kept preserved relics like a 300-year-old Kiddush cup, candlesticks, etc.

Marranos should not be confused with Indian Jews or the descendants of Mestizos who converted to Judaism of late. They are not the descendants of Indian slaves of Jews who adopted their religion, either. Although the recently-converted Mestizo Jews of Mexico are devout Jews, the term Marranos applies here to specific families which have remained consciously, genetically Jewish through cousin marriages and selected marriages with other secret Jews from European ancestry in the Iberian penisula (Spain and Portugal). Many of those people have been living in Mexico for more than 300 years and can be seen as totally different from the general Mestizo Latin American population at large.

There is still prejudice against Marranos. In Majorca, for example, after 300 years, the Inquisition still taints the Chuetas (Chueta comes from the Catalonian word for Jew, Xueta). Family names were engraved in a church saying that they were secret Jews. Today, their descendants are still shunned by the local populace. Nico Aguilo, a Marrano from Majorca, Spain, went to a yeshiva in Israel, formally renewed his conversion to Judaism, returned to Majorca, to help other Jews come back.

In the Iberian penisula, it has become fashionable not to remain secret Jews. In Cordoba, Spain, the Beit Sephardi was established by two local business people who felt that it was time to announce their secret Jewish faith. It is a local center for study and culture of the Jewish history of Cordoba. Since one out of ten Spaniards reputedly were Jewish prior to the Inquisition, the social stigma that formerly was attached to being a Marrano is diminishing.

Today, in South America and in Mexico, there are still Marranos with their quaint customs. They are slowly coming forward but only when searched out by rabbis wishing to take them back into the fold.

Anne Cardoza

http://sefarad.org/sefarad/sefarad.php/id/29/

---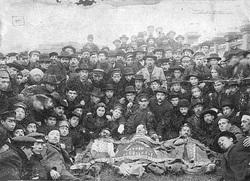 The Old Photo

"'Why didn't the Jews resist? 'I am angry [at that persistent question]. The myth of "the passive Jew" has joined the folklore of bigotry along with the myth of "the happy Negro" in the pre-Civil War South." --Ken Wachsberger, writer on Jewish Resistance during the Holocaust

The black and white photograph had always made me uncomfortable. Cut from some Yiddish language newspaper, it hung in a black wooden frame on the wall of my grandparents' Bronx apartment, surrounded by other family artifacts. Among them was my grandpa's naturalization papers declaring him an American citizen in 1930. My father's bar mitzvah photograph. My parents' wedding picture and my own baby and graduation pictures. And this bleak picture of dozens of people surrounding the corpses of fallen comrades. A ghoulish reminder of the violence against Jews starting with the Kishinev pogrom in 1906 and sweeping all the way to Odessa, where my grandfather was born. As a child I was terrified by the picture, so much so that I avoided approaching the gallery of photos to look at any of them.

"Why is this here?" I finally asked Grandpa when I was home from college one summer.

"So we never forget!" he answered firmly.

"The Holocaust?" "To never forget" the Shoah was the sacred oath sworn by Jews and, most particularly, Israelis. "To never forget" was the mantra behind our vigilance against anti-Semitism and anti-Zionist speech and actions.

"No, not that," he shook his head. "To never forget that we fought back! That Jews took up what few weapons they had, knives, axes, even shovels, and fought back, house by house, street by street. Look at them! Look into their eyes." He plucked the picture off the wall and put it into my hands. "See how they stare right back at the camera. No one hides his face. They are saying, "We are proud men! We demand respect. We will fight even though we know we have little chance to win against the Czar's thugs, because it is important to the ones who come after us to know we were brave and that Jews can fight."

"And women too," I said, looking carefully, seeing young women dressed in the fashions of the times, well, what passed for the fashion among the poor working classes.

"Yes," he said grimly. "The men they could tell were Jews when they were ordered to drop their trousers. But the girls—they could get out of the Jewish district and blend into the crowds. They could sneak arms and food back behind the walls. Some even flirted with the Cossack beasts hoping to learn their secrets. If they were discovered, they suffered terribly...." He stopped, his eyes wet with tears, his lips trembling.

I asked quietly, "Were these people you knew?"

He shook his head, "These were those I admired. My sister, my eldest sister, Nechama, was one of those girls. Not in the picture. She had already disappeared on one of her trips at night out of the Jewish part of Odessa. I hope that these men and these women knew about her, that her bravery, her sacrifice meant something...."

He polished the picture with the hanky always in his pocket and hung it back on the wall, gently adjusting it so it was straight. "I have no picture of her. I remember little. I was so much younger. I do not know exactly happened, how she was killed or where she was buried. So this is my only memory of her. I think that her spirit is somewhere among them, being brave, being proud to be a Jew."

Grandpa is gone now. All the family heirlooms have been given to his children. My parents have a wall of pictures in their suburban NY home including many from the apartment.

I had asked for just one thing from the apartment as his granddaughter. I wanted the picture of the members of the Odessa Bund, staring bravely back at the camera, over the bodies of their friends.

It is the only way I can "see" a woman I never knew but for whom I was named. I pray that I am worthy of that honor.

Submitted by Naomi Ellison (Nechama, in Hebrew). Edited by Ezekiel Nieto Benzion.


---