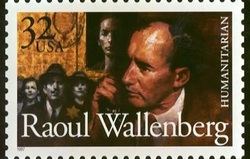 I was reminded of this wonderful event by the news recently of the discovery of hidden Holocaust documents in Budapest.

We had just toured the magnificent Dohany Street Synagogue, the Great Synagogue of Budapest, and had almost decided to go to dinner. It was near closing time for the sights anyway.

But I urged my wife, "Let's continue on to the Jewish Museum. We have an hour. How long would it take us to run through yet another Jewish museum? We had been to so many so we can 'do' this one quickly."

At the ticket counter, a diminutive old man was speaking in Hungarian to a young bearded man tuning a balalaika. The old gent halted his conversation to greet us. "Would you like a tour?" he asked in heavily-accented English.

I looked at my wife. She gave me one of those shrugs which mean, "It is up to you but I reserve my right to complain about your decision." I turned back to the gentleman. "We would enjoy a 'quick' tour but we are Jewish so you need not explain the religion or the holidays. We would like to learn about the community here in Budapest, in Hungary."

He introduced himself as Mr. Aron Blau, " Ikh farshteyn! I understand. All the Jews from America want a quick tour. I will tell you our story, the story of the Jews who have lived here for hundreds of years--but quickly for you." He winked.

We started in the Judaica section where he pointed out the unique works of art. We admired an unusual seder plate, unlike any we had ever seen before, with small figurines holding dishes for the holy day's symbolic foods. Then we moved into the historical exhibit which told the story of the Hungarian Jewish community, century after century, for the many hundreds of years the community had survived and sometimes thrived . As we were about to begin the twentieth century, Mr. Blau pointed to a poignant photo of Jews being rounded up by Nazis and Hungarian Silver Arrow members. He asked, "Have you heard of Raoul Wallenberg?"

"Of course," I said. "The great Swedish hero who saved thousands of Jews right here in Budapest."

He smiled. "Yes, and I am one of them, a rescued Jew who survived. Wallenberg saved me and my mother." He sighed. "My father had already been deported. 'For work,' they said but it was right to Auschwitz-Birkenau. We never saw him again. He was just thirty years old.

"I was seven. Day after day, my mother and I would go to the Swedish embassy and wait with all the others, hoping we would get a paper to save us. Finally Wallenberg came right up to us, as close as you are to me now, and he handed a paper to my mother. 'You and your son are now protected by the Swedish government. This paper says you are a Swedish citizen waiting to be repatriated,' he said. He pointed across the street. 'Go to that building with the big Swedish flag. It is now called the Swedish Library. Stay there until you are told it is safe for you to leave. Do not go back to your apartment. You are being watched right now and this paper might not save you if you leave this street.'

So we went across the street and through the gates. It was already crowded with people but it was organized to help us. My mother worked in the kitchen. Other people ran a school. Another group organized cultural events. We stayed there for six months until the Soviets came and 'liberated' Hungary."

"And after that, why did you stay in Budapest?" I asked, knowing many had fled to other countries as soon as they could after the War.

He looked at me, his jaw set tightly, "My mother said, 'We are proud Hungarians and we are Jews. And because we survived, we must help the Jews of Hungary survive.' So we stayed. It was hard under the Soviets who were not interested in keeping the Jews of Hungary alive but now they are gone too." Then his voice became sharp, "But why didn't FDR bomb the train tracks? We all knew what was happening. Why didn't he bomb the tracks to stop the deportations?"

There was no answer I could give. "Politics got in the way of he righteous act as it often does. I cannot excuse it."

He stared back at me as if he wanted to argue the point but we both recognized that it would not change the tragic history of that period. Then he smiled, "But we are still here and last year, my grandson, named for my father, was bar mitzvahed in the Great Synagogue. So after all that, life is better. It was a good time; we danced and sang as Hungarian Jews do." Then he said urgently, "Come with me! It is almost closing time and you are probably thinking about where to go for dinner."

We arrived back at the ticket counter where he introduced us to the young man still plucking the balalaika. "Tell them," he ordered.

The man blushed but he told us in hesitant English that he was performing in a klezmer band that very evening at a local cafe. For the price of admission, we could have a typical Hungarian-Jewish dinner and a klezmer music show performed by six young Jewish musicians. The old man's eyes shone with excitement. "See, we are here, still alive and celebrating! You must go to celebrate with us."

How could anyone say 'no' to such an offer?

When we arrived, we talked to the others already seated at tables near us. They spoke of the little old man at the Jewish Museum who wanted them to celebrate with Jews who were still alive and here in Budapest...after all that. I smiled at the power of the story he had told each of us.

Thank you, Aron Blau, for showing us where to find the freyd, the joy, in Budapest.