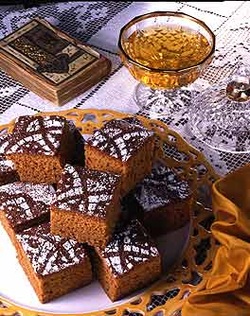 I love honey cake, called "levach" and often maligned as the fruitcake of Jewish tradition: dismissed as too sweet, too old-fashioned, too heavy. But in many homes, including my own, it would be missed if it did not appear as part of the groaning board of desserts on Rosh Hashanah, the Jewish New Year. For me, it is not the honey cake but the memory it invokes as soon as I smell its rich spicy odor. It is the memory of my mother's cousin Natalia and her remarkable story. I will tell her story in more detail at another time but here I will focus on her honey cake. Well, not the cake itself but the making of it.

The magic was revealed one evening over glasses of tea in the kitchen of Natalia's and Nathan's Montreal apartment. I was about ten years old and this was my first trip to another country, Quebec, Canada, where my Polish relatives spoke French as well as English. Even back then I reveled in the stories told by the grown-ups gathered around the table.

My mother loved to swap recipes and soon she and Natalia were sharing their specialties. Nathan boasted in his Polish-Yiddish accent, "No one can make lekach better than Talia!" and his lips smacked at the remembered taste. My mother admitted that her cake was not so wonderful. So what was Natalia's secret?

Natalia brought out her recipe book. The "retsept" she wanted was not in the book itself, but among the old papers tucked into its back cover. She pulled it out, laid it on the table, and tenderly stroked it flat.

My mother leaned over eagerly, then hesitated. "Talia, it is in Polish. Can you translate it? I'll write it down in English."

Natalia recited it in her elegant Polish accent. To my ears it sounded like a strange ritual. "Vell, furst, you find de cake pan, the big one with the dented bottom. And the blue shissel, the bowl big enough for the batter 'cause this vill be a zeyer groys shtikl, a very big cake. And you need the spoon, the burned leffel, the wooden one that Mama used. Start with four glass flour....and add a half shell of...and a shiterein of...." My mother nodded as she wrote all these strange instructions down.

Glass flour? My mother explained it later. Poor people used what was at hand. Yahrzeit candles (memorial candles) came in glasses. When the candles burned down, the glasses were saved and used for drinking and measuring. A glass measured about a cup and was used by all immigrant Jewish cooks. A "half-shell" was half an egg shell, most likely a tablespoon, a handy measuring device when the eggs had already been cracked and stirred into the batter. After all, why spend money on such fancy schmancy things as measuring cups and spoons? And "shiterein"? Not a curse word but a "dash" or the unspecified amount used by a skilled cook who just knew how much was needed.

And the burned spoon? That was the real secret ingredient. It was the one thing that Natalia saved from her home in Warsaw. She and Nathan had heard the rumble of the German tanks approaching. But they had to stay, even as danger grew closer, so she could comfort her dying mother. Then they ran east, into the Soviet Union and imprisonment in a Siberian labor camp.

Why flee with a wooden spoon? Natalia shrugged as she explained, "Wherever we went, I might need to cook something. And wherever I went, I wanted to remember my Mama." Nathan added bitterly, "And wherever she went, she had a weapon. With a zetz, she might be able to escape."

That was why Natalia's lekach was special. It had the honey sweetness of love and the spice of sharp memories stirred with a wooden spoon that symbolized the past as the cakes symbolized her hopes for a better future.

They are all blessed memories now, Natalia and Nathan and my mother. I have no idea where the Polish recipe is or my mother's translation of it. No one I know has the wooden spoon that traveled so far. But most traditional honey cake recipes have enough of the same ingredients so that the magic still happens. The spicy sweet aroma wafts through the kitchen and I remember them all, down to the wooden spoon.

Le-shanah tovah tikkatevu! May you be inscribed for a good year!