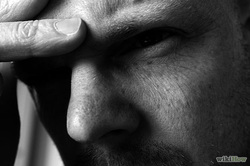 This was not what I wanted to blog about but nothing else seems important. Last week seemed endless. This week seemed formless. Time stalled from the moment we got the news.

A colleague committed suicide at work a week ago. He hung himself right before the staff was due in at 8:00 am.

It was a shock when we found out but, for some of us, not entirely unexpected. We, his fellow faculty members, had watched him deteriorate over the past year. His behaviors had become increasingly more bizarre and, to be honest, more frightening.

Alone, without any family nearby, he began isolating himself from his few work friends who reported that he was expressing fear about routine daily situations. When we extended offers of assistance and mentioned our concerns, he accused us of plots, of stalking him, and of trying to ruin his career. We called on the staff in human resources, employee assistance, personal counseling, and finally public safety. They offered no-cost private sessions or referrals through the employee assistance program. He responded firmly that he was fine, just fine, and that we should all stop persecuting him.

Voice mail left on our machines intimated that we would be sorry for reporting on him and that he knew where we lived. He stated in a controlled neutral tone that he also knew where our children spent their time after school. Some of us contacted the campus police worried that he might lash out violently at us or our families. Our concern for him had turned into our fear of him.

We learned over these past weeks that health care providers have no power to force adults to seek help or to keep appointments unless they threatened to harm themselves or others. The public safety officials said the same. As deep as our colleague sank into his isolation and distorted worldview, he somehow knew not to cross that line. He made statements, never overt threats. He might stare but he never waved a dangerous weapon.

As his interactions deteriorated, he was assigned work he could do alone, research projects maintaining or searching databases. Then we learned that he was systematically hacking into other people's projects, erasing documents or inserting cryptic warnings such as "you know what you are doing" or "I am not required to do this."

Ironically, the hacking was the crime that galvanized the institution to demand action. There was more protection for data files than for him. He was put on administrative leave for the remaining weeks of the semester, his access to his office and to any electronic files was blocked. He was informed that his annual contract would not be renewed.

There seemed to be nothing else that could be done. He would not seek help voluntarily; we could not force him to do so. We were part of an enterprise that needed work to be done on time, students to be taught and research teams to function collegially.

We all are feeling great sadness and guilt now. Could we have seen something sooner? Could we have done anything more or better? Did we miss the chance to help when there was still hope?

But this event has also revealed a host of very kind individuals who support people facing difficult times and they do it with empathy and skill. They are professionals that most of us have been blessed not to need before but who are there to help students and employees cope with a host of crises at any moment.

There was the public safety officer who explained how, when and where there would be investigations conducted, caring that staff not be unduly disturbed by the presence of investigators. Then he sat quietly with us for an extra half-hour, reassuring us that we had done all we could, that the individual had made a personal decision, that we could not know precisely what was in his mind at the time, that sometimes there is truly nothing that can been done in a democratic society that must balance individual freedom against forced treatment and institutionalization. Public safety on a university campus is about creating safety and defusing tensions, reaching people in time to avoid tragedy, teaching people better ways to interact with each other. What had happened saddened him as much as it saddened us.

Counselors appeared in the department, drawing us into a meeting where we learned the different ways we might each experience grief, loss and guilt. Some people wiped their tears, while others seemed frozen in place. We were told that lack of focus, anxiety, sleep disturbances, delayed reactions were all different signals that we might need to take care of ourselves. A variety of services were made available ranging from individual counseling to group sessions.

And today, I received a follow-up phone call. How was I doing? Would I like to talk over coffee? Was I worried about anything or anyone else?

I made a comment about how difficult it must be to have a career where each phone call meant a crisis. There was a pause from the caller: "Unfortunately, suicides and self-destructive behaviors are not rare on college campuses. What keeps us going are the days when we answer the phone and can provide intervention and support to avoid tragedy. Calls are good. Too much silence makes us concerned. Silence often precedes terrible crises. Do not ever hesitate to make that call."

And I thought back to our colleague. How quiet he had become those last days—quite peaceful in fact. He had resolved his doubts and made his decision. His silence was the warning, but we were not trained to notice.